Starfall gifts for a good cause!
Starfall gifts for a good cause!
Supported
400
The results of the draw are here. Congratulations to the winners. You will be contacted by the managers of the Charitable Foundation "Your Support".
The lives of children with congenital heart defects depend on our help.
Every year, 800 children die from cardiovascular disease. The figure is frightening. However, there is a place where their lives are professionally saved - the Amosov National Institute. About 750 children with heart defects are operated on there. However, unfortunately, the equipment, which is literally a guarantee of rescue, is constantly worn out, and due to critical underfunding, the institution is not able to buy expensive equipment on its own.
Modern equipment increases children's chances of survival!
The Faculty of Management and Technology of the State University of Infrastructure and Technology has initiated a charity draw, where everyone who makes a charitable contribution of 20 hryvnias, automatically participates in the drawing of valuable gifts!
Among the gifts:
1. Individual excursion to the TV channel Direct with TV presenter Kateryna Trushyk
2. Monthly coffee supply from WOG filling stations (for Pride wallet)
3. Photo session in Kyiv by photographer Olena Podoba (location, make-up, clothes, props are provided by the winner)
4. Certificate with a face value of 2000 UAH from the clothing brand "Two hearts"
5. Certificate with a face value of UAH 2,000 from the Ukrainian mass market of women's clothing "Must Have"
6. Certificate with a face value of UAH 2,000 from the clothing brand "Nit.kA"
7. INSTA PLANNER 2.0 from LAVLA
8. Certificate for the master class "Makeup for yourself" from MUMA beauty academy
9. Certificate with a face value of UAH 1,000 from Piel Cosmetics
10. A set of books "Ni sy" and "Ne noy" from Fresh books
11. Women's glider from LandO
12. Interior candle in wood with textured bark from "WOOD MOOD"
13. Certificate with a face value of UAH 1,000 from the "N&M" clothing brand
The promotion lasts from 12:00 2 to 18:00 on December 15. The winners will be announced on December 16, 2020 at 12:00 live on Dobro.ua's Facebook page.
Only contributions from 20 hryvnias take part in the draw. The number of contributions is unlimited.
The fundraiser is part of the "Road to Good" project.
Event author:
СF "Your Support"
Archive rewards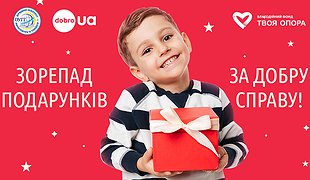 Each donation from 20 UAH to this charity project is an automatic participation in the drawin…
Next
Didn't receive confirmation email?
To re-receive the confirmation reward email, enter the email specified when donating